DECODING:

SOPHIA CHIKOVANI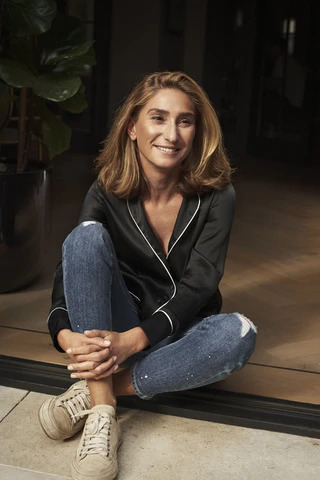 A founder of an architecture and interior design company for many years before launching Code8 Beauty, Sophia Chikovani is a mother of three, originally from Georgia. In this first series of Decoding Beauty, she shares her personal experience with make-up, and her attitude towards life, beauty and style.
What was your first experience with make-up?
Watching my aunt mixing leftover lipstick to create new shades. I was very young, and to me it was like watching a magic show.
Makeup advice you took from a family member that has still stuck with you.
This same aunt always said "never forget to finish a look with mascara", and it stuck with me because I have tried to go without to prove her wrong, but the look always feels off. You have to frame the eyes…
How long does it typically take you to get ready, and what products do you use to start your day? 
It takes me around 45 minutes. The most important part of my morning routine is my skincare regimen, as my skin tends to become very dry in cold weather. An oil and a moisturiser are a must.
How did your beauty regime evolve throughout your 30s?
It changed quite a bit after the age of 35. I started to use make-up to hide the imperfections that inevitably come with age, but I still didn't want that "done" look or to worry about make-up quickly fading when I'm running around all day. So I really became picky about what I use, always searching for the perfect product.
Whose beauty style do you admire?
I like the laidback look of women who are clearly very comfortable in their skin, and who are not fazed by social pressure.
What beauty advice would you give your teenage self or this generation's young women?
Be confident about who you are, respect yourself. This goes for everything.
What are your sources of inspiration?
New places I travel to such as Morocco, or even old favourites such as Ibiza. Of course, always architecture, furniture and interior objects, and furniture will always be a big source of inspiration. You could say I'm design-obsessed.
What is your passion?
I love taking on a challenge and solving less-than obvious situations.
Where are you itching to travel next?
Peru, hands down. I have had this destination on my list for a while, thanks to all those Mario Vargas Llosa books I've reread many times.
What is your favourite moment of the day?
The evening. After a long day at the office, I love reuniting with my family, going out to meet friends or just having some quiet time watching a TV series and drinking a glass of cognac.