Your Valentine's Gift Guide
Whether you are celebrating with a significant other, a close friend or treating yourself this Valentines, there's nothing like new make-up to make you feel good this holiday special.  Avoid the clichéd roses and chocolates. Been there, done that. Instead, choose a present that will get any heart a-fluttering: makeup that makes beauty dreams come true. Guaranteed to last longer than a bouquet of blossoms or a tray of truffles, a long-lasting, luxurious makeup or skincare product is a great way to start spreading the love. Self-love or love for those around you, it really doesn't matter. At Code8 you'll find a range of inspiring Valentine's gifts ready to bring a little joy to an otherwise cold, dreary time of the year. Here's a look at some gorgeous gift ideas that will get those pulses racing…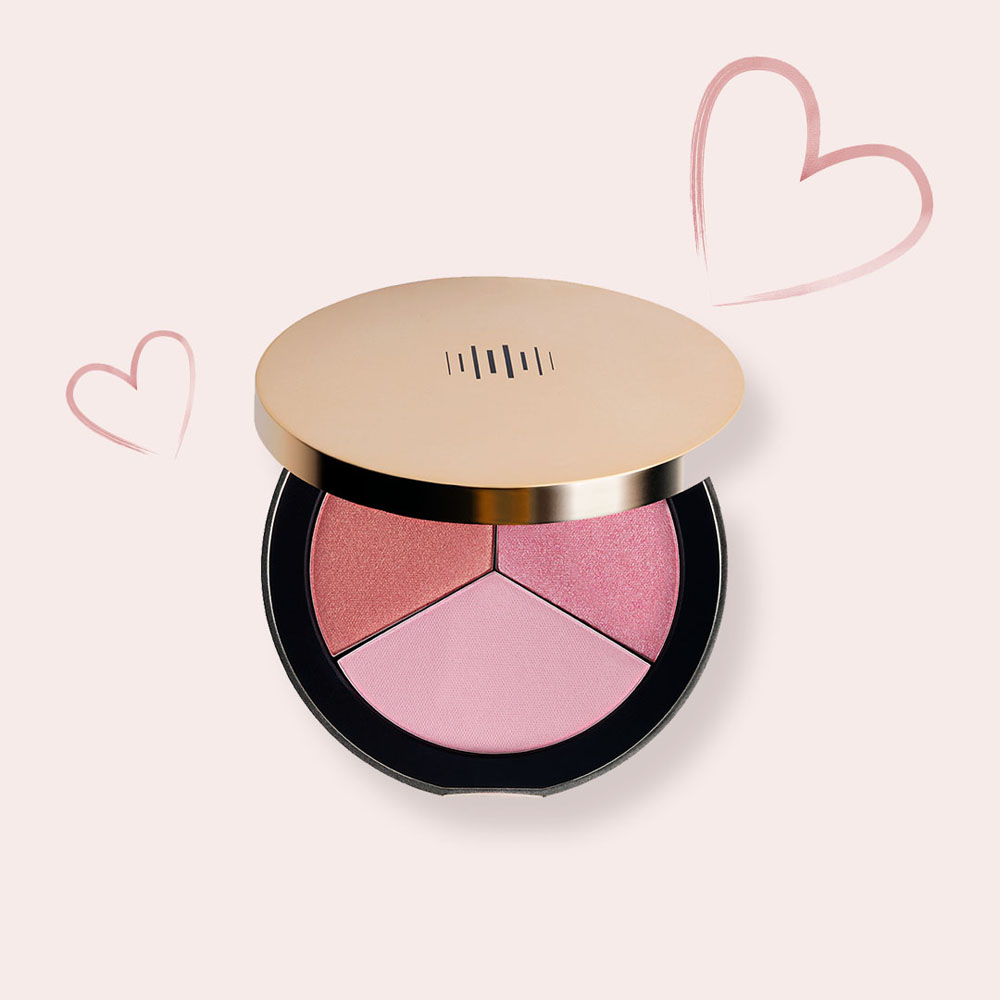 Where did you get that rosy glow? A rush of endorphins? A late-night liaison? Or maybe it's from the colour intenseCode8 Blush Palette. While there are plenty of opportunities to blush on Valentine's Day, it's nice to take control of that glow. Giving the dullest of skin that coveted lit-from-within complexion, this blush palette creates a youthful flush with just a few sweeps of a brush. The first-ever blusher to use Knead technology (a process that helps retain colour pay-off and create an ultra-fine formula), this colour palette gives superior blend-ability, long-lasting wear and a silky texture. Combining three complementary shades that are designed to be used together or separately, this is your fast track to a gratifying glow.
Choose a shade to suit your mood:
Pink Beach - Inspired by the pink beaches of Sardinia, Harbour Island, Crete and Indonesia, it gives a youthful, rosy glow.
Rosé - Inspired by the sophisticated shades of the wines of Provence, it adds peachy tones for either a natural or more polished look.
Merlot - Inspired by the richness of grapes and wine, this mauve blush shade adds an air of sophistication to any skin tone.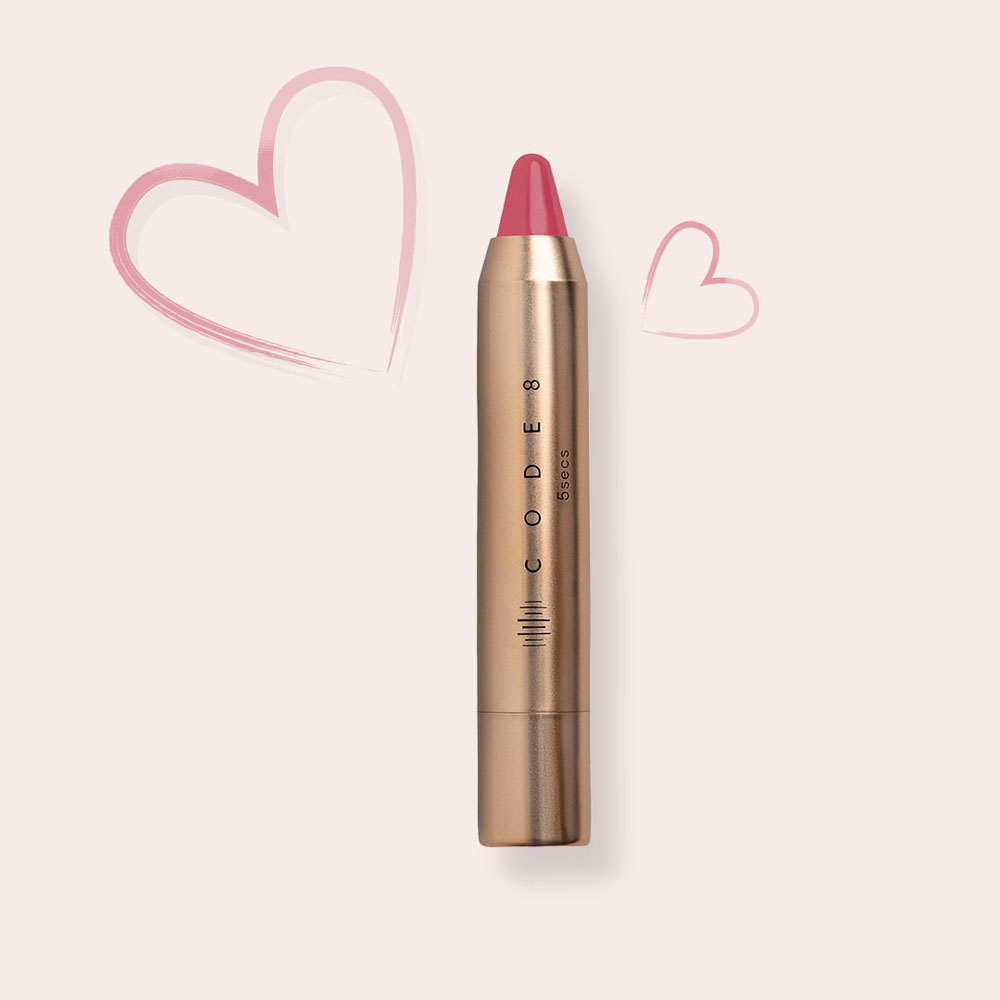 The Gift Of (Effortless) Beauty
We've all seen them. The women who look like they're wearing hardly any makeup, with hair tied up in a messy (yet perfectly-formed) bun, and skin that is positively radiant. How do they achieve this level of effortless beauty? We suspect with more effort than they'd like to let on…But effortless beauty shouldn't be a challenge. And withCode8's 5Secs Express Lip and Cheek Colour it doesn't have to be. Focusing on the ethos of 'less is more', it combines the hydrating and repairing benefits of a lip balm, the colour effect of a sheer lipstick, and the long-lasting subtle colour of a blusher. This is a beauty product made with time in mind. Forget hours spent in front of the mirror creating the perfect look, and instead move towards easy-to-apply, low-maintenance make-up that looks great in a flash. For an effortless beauty look this Valentine's Day, without the hidden effort, get back to basics with5Secs Express Lip and Cheek Colour.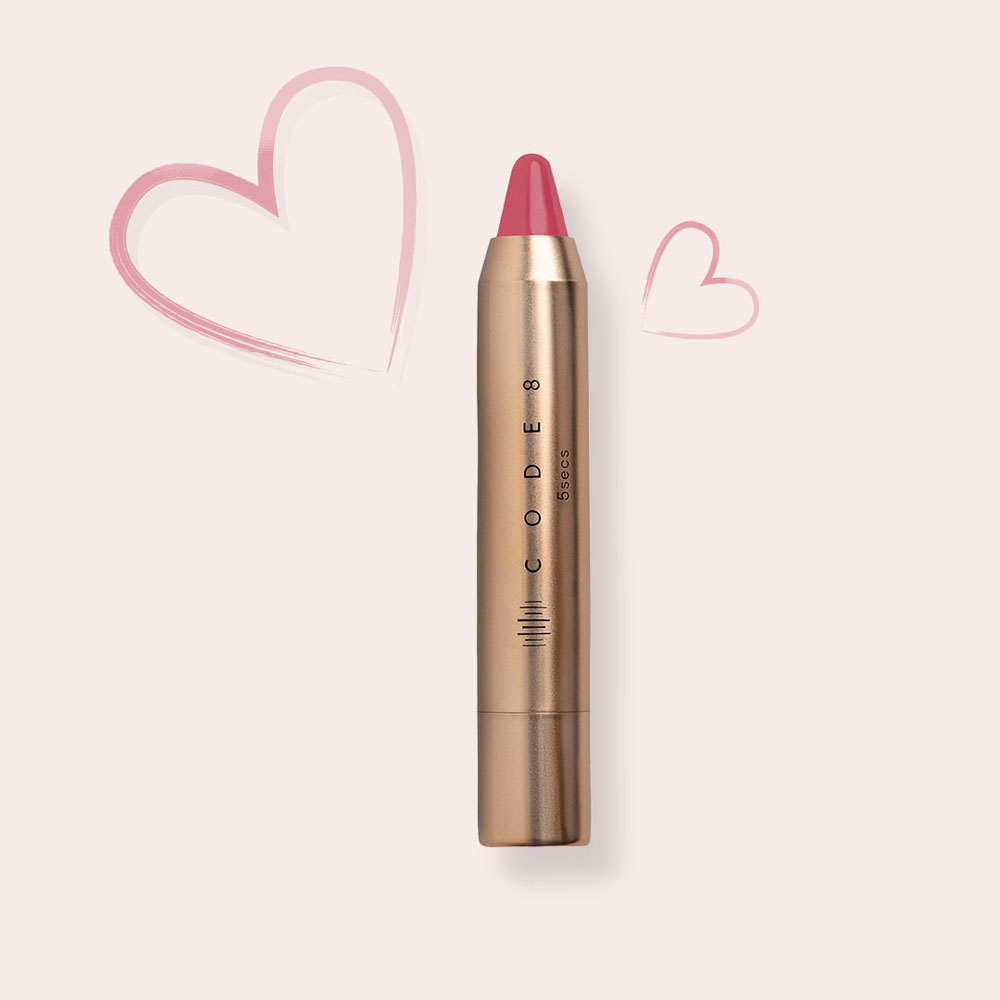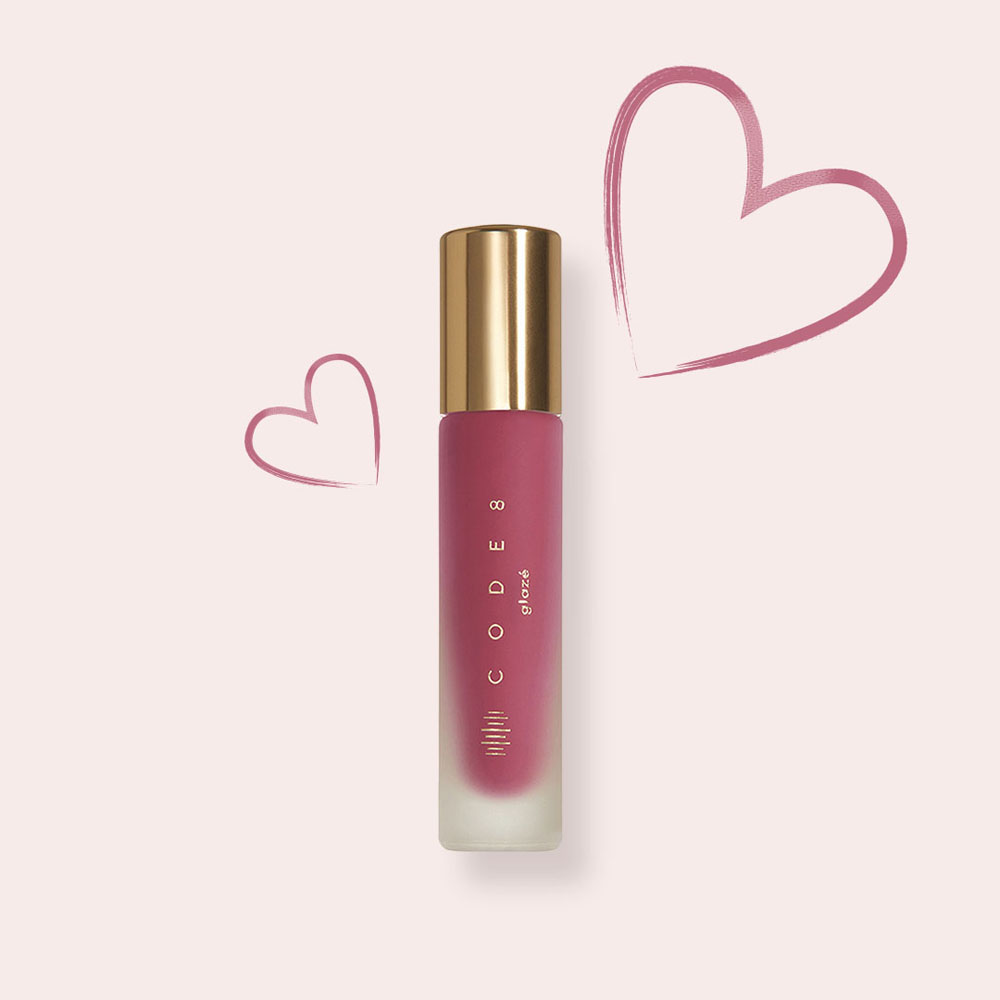 Luscious Lips For The Perfect Pout
What better gift on Valentine's Day than one that helps perfect your pout? One of Code8's lip-loving products is sure to create the softest, fullest, most kissable (and Instagram-worthy) lips you can imagine. TakeGlazé Universal Lip Gloss in the consistently-flattering shade Spyglass (aka a peachy nude). This lip-plumping, collagen-boosting, moisture-enhancing gloss creates a sheer wash of colour to emphasise the lips in a matter of seconds. Or what aboutGlazé Lip Lacquer? It comes in eight shades, ranging from nude and sorbet pink to chocolatey mauve and rich dark plum. And it's another product that saves you time. Just one sweep delivers highly pigmented, rich colour and a semi-gloss finish. Lips are left well-defined, soft and supple and fully hydrated. Give the gift of the perfect pout with one of Code8's lip-loving glosses and lacquers this February.
Spread the love, melt the makeup
If there's one thing every beauty lover needs, it's a makeup remover that works. Not removing foundation, powder and other makeup properly can lead to all sorts of skin issues (clogged pores, breakouts and premature ageing to name a few). This Valentine's Day, why not spread the love (and the joy of healthy, glowing skin) by teaming a Code8 makeup product with an eco-friendly frosted glass bottle of Code8's 3-in-1 Makeup Remover? It really could be the most gratefully received of gifts. As well as removing all traces of the most stubborn makeup, this hard-working product will also cleanse, soothe and hydrate without leaving an oily film or residue. Hailed as the ultimate saviour for dry and very dry skin, it's gentle, helps to prevent moisture loss, and restores the skin's suppleness. The path to healthy, glowing skin starts now with Code8's 3-in1 Makeup Remover. It truly is the gift that keeps on giving.
Code8: Makeup gifts to make you swoon
However you choose to celebrate Valentine's Day this year, make it a day to remember with a treat from the Code8 range. With products designed to make everyone look their best natural self (just a little more polished), the wearer is empowered to express their beauty, individuality, and creativity. And all just with a quick sweep, smudge or swipe. Do what makes you feel good; fall in love (or show someone you care) with Code8's supercharged beauty products today.