Top 4 Spring Makeup Trends
What's better than the start of a new season? The fresh, new makeup trends that come with it. Taking inspiration from runway shows and Instagram, we've had glimpses of what's to come. And it's clear that spring 2022 is all about color, gloss and a good dose of fun. The coolest spring makeup trends to try right now are as creative as they are relatable. As innovative as they are wearable. And embrace the ethos of minimum effort makeup. Think light-touch lip color; sharp, precise eyeliner; flawless finish makeup; and blush with serious disco vibes. So, makeup brushes at the ready. It's time to check out our top four spring beauty trends and take your season's look up a level.
1. Diffused Lips
If you're looking for an alternative to the super-defined lip, it might be time you tried a diffused (aka gradient or reverse ombré) lip. This K-beauty inspired trend gives lips a more blurred, soft-focus appeal. Think post-popsicle sheen. Featuring soft color on the center of the lips which gradually fades as you near the lip line. Diffused lips work in a range of shades – from soft coral pink to more dramatic, vampy tones. Natural and effortless – perfect for any spring day or night.
Get the look: Start by gently exfoliating and applying a hydrating lip balm. Dab away any excess and apply a small amount of concealer to the lips to create a uniform canvas. Next, choose your favorite shade of high pigment lip gloss – Code8's Glaze Lip Lacquer in Safari will give you color payoff and a semi-glossiness that melts onto the lips. Using a dotting motion, apply the gloss to the center of your lips only. Start small, building up the color slowly. Gently press your lips together (being careful not to smudge the color across the entire lip) and repeat the process for more intensity. Then, using your finger, blend the color to create a natural-looking gradient.
2. Double Wing Eyeliner
Graphic eyeliner is probably already on your radar. But this spring, one wing is no longer enough. This season, it's double wing or nothing. As the name suggests, double wing eyeliner features one sweep of eyeliner along the top lash line and another extending out from the bottom lash line. Drawing inspiration from Sixties eye makeup, it opens the eye, making them appear bigger. You can make this look as natural or dramatic as you want. Whether you stick with a small wing or go all out with your flick is up to you. The only thing you need is a steady hand – and a bit of practice.
Get the look: The first step in nailing this look is finding a great eyeliner.  Code8's Precision Liquid Eyeliner will do you proud, gliding onto the lash line with ease and creating a long lasting makeup look you'll love. Start by drawing a line along your top lash line, moving from the inner corner outwards. If you're new to precision liner, use small strokes that are close to the root of your lashes and finish with your wing of choice. Then, draw a parallel line along the bottom lash line with a matching wing. Don't worry if you make a mistake; it's bound to happen. Just make sure you have a bottle of hydrating makeup remover and plenty of Q-tips to keep those wings on point.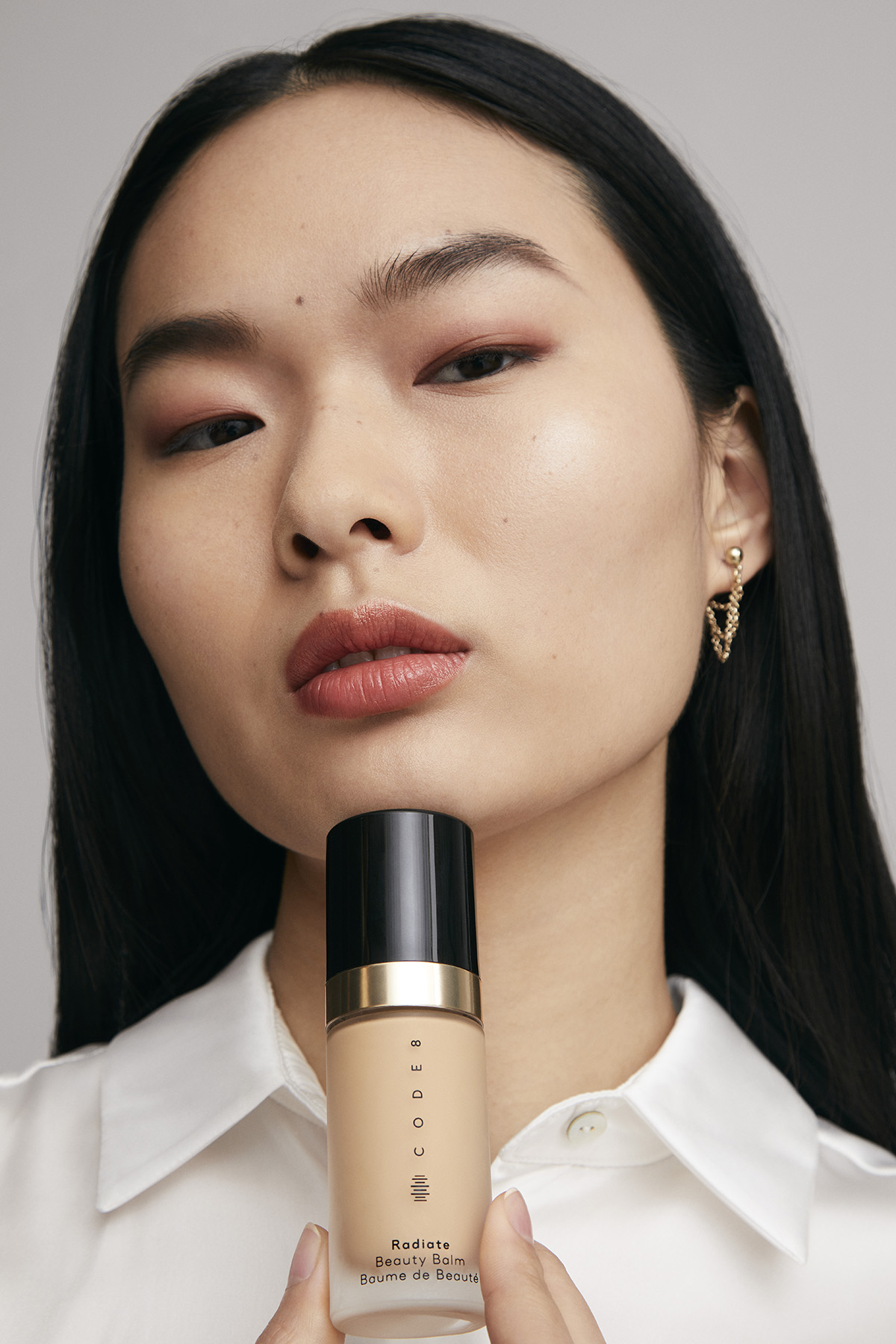 3. Natural Finish Foundation
Get a spring in your step with the flawless finish makeup trend. Because who doesn't want their skin to look polished with minimal effort? For that you need a product that makes your skin glow. Make way for  Radiate Beauty Balm. The latest product to be launched in the US by London-based makeup brand Code8. Loved by beauty editors and makeup artists alike, it's designed to give you a coveted lit-from-within glow. This minimum effort makeup product offers lightweight coverage to create a sheer velvety base which blends seamlessly onto the skin. 
Get the look: Rest assured, the no-makeup makeup trend is going nowhere. And achieving the look is all in the application. Start by making sure your skin is super supple and hydrated with a quality moisturizer. Next, apply a small amount of  Radiate Beauty Balm on your forehead, cheeks, nose and chin. Blend with a brush for fuller coverage or with a slightly damp sponge to retain a dewy appearance. A little can go a long way, so start small and build as you go. Leave to set for a few minutes before applying your next products (e.g. lightweight concealer, highlighter or blush).
4. Draped Blush
For some disco-inspired fun, why not try draped blush? This is all about wearing blush not just on the cheeks, but all the way up to the temples too. Why? Because it makes your face instantly look fresh and sun-kissed and really brings it to life. Wear daily for a natural flush, or really commit to it for a big night out. Code8's  5Secs Express Lip and Cheek Color or  Blush Palette in Merlot lets you do both. The Cheek Color is soft and creamy, while the Blush Palette is silky and lightweight. Build the color depending on your mood, making it as subtle or bold as you like.
How to apply: Apply the blush onto prepped skin. If you're after a subtle daytime look, apply  5Secs Express Lip and Cheek Color directly to the cheeks and temples, blending with your fingers for a gentle glow. Or, for a more intense, longwear makeup look, work a small amount of  Blush Palette onto a fluffy brush, starting at the apples of the cheeks and moving up towards the temples and crease of the eyes. Build and blend the color using circular motions. And for added drama, finish with a second, deeper shade around the temple.
Code8 Beauty – We believe makeup should be fuss-free and easy to use, which is why our range has been carefully curated to provide the best results with minimal effort.
Need some more Spring Essentials
Discover other hard-working seasonal must-haves